I hear the voice of God like in the movie 'Venom' – Majid Michel
Award-winning actor, now turned evangelist, Majid Michel says he hears the voice of God in the same way Hollywood actor Tom Hardy hears the voice of his alien symbiote in the movie "Venom."
According to him, it is an inner voice he hears inside his head.
Majid Michel revealed that he has always known God since he became aware of things and at the age of seven, God informed him of an accident that happened before his eyes.
Interacting with the host of The Reason is Jesus on Joy FM, Fifi Folson, he said: "I've always known God all my life. There was no turning point. Since I remember being aware in life, I have known God.
"I'm sitting in a taxi with some of the people in my house on the North Kaneshie road and I'm seven years old. God tells me your taxi is going to hit the guy in front of you. And baam! Right there. I was seven, really young and I remember it clearly.
"How did I know the car was going to hit the guy in front of us? God told me. Have you seen the movie Venom? Venom is this monster that talks to Tom Hardy. How venom talks to the guy is how you hear it. It is inside you. Some people hear it audibly like this. I can hear it audibly."
He narrated a recent directive from God that required him to assist a woman financially to further explain his interaction with God.
"Two days ago, God told me give this woman GH500 and I went back and forth with him a little bit. I said 'are you the one telling me to give her GH500'? He said yes and I had the desire to give the woman GH500."
READ ALSO:
According to Majid, he still had doubts and asked "how do I know it is you?"
But God said "give Andrew GH¢500. I said I don't want to. He said give Christy GH¢500. I said I don't want to. He said why do you feel the desire to give this woman GH¢500, I am the one telling you to give it to her, she needs it. I gave her the money."
The actor stated that he was aware the directive was from God following a response from the woman he had assisted.
"How do I know it is God? The next day, she comes thanking me telling me I gave her the money right on time. She needed it right at the time I gave it to her.
"It is not like I give her money or she is used to me giving her money. Her response will let you know where the information came from."
For him, it is imperative to hear the voice of God in order for one to order his or her steps as some instructions from God may appear to veer from some teachings in the Bible.
"You hear most people say the Bible said. It is a great thing to say the Bible said but you must be bold enough to say God told me – the Bible is a written word and we have the voice of God that can tell you things that might even look like it is a bit contradictory to some of the scriptures you read. That is why you need deep understanding about what is written to know what you are applying.
"Jesus said go into the world and preach the Gospel. The Holy Spirit tells Paul, it (the Bible) said the Holy Spirit forbade Paul from going to Asia but I thought you said we should go to the world and preach the Gospel. So why are you telling me not to go to Asia? Because Paul is in tune and Paul can hear. That is what defines it, that is what you call the relationship," he added.
I've ever googled sex positions
A 'never have I ever' segment of Adom TV's entertaining weekend show, Ahosepe Xtra got musician Akwaboah revealing some deep secrets about himself.
Among the things he revealed that got him thinking hard was his confession of searching up pornographic content including sex positions.
Rather than the sexual gratification people find on such sites, Akwaboah said he 'googled' basically for educative purposes.
He told host Black I that such incidents happened when he was relatively younger, and at a time when peer pressure was unavoidable.
"I heard stories and names but I didn't know what it was or how it looked like so obviously, I wanted to learn more".
Akwaboah claimed it was not to equip himself with the skills when he decides to practice but to feed his curiosity and have stories to share when 'boys boys' brought up such conversations.
He, however, revealed he had a favourite from the different positions he learned, a favorite he failed to make mention on the show.
The I Do Love You composer also indicated during the interview that he has a crush on a Ghanaian celebrity.
He said when he began developing affection for the actress whose name he failed to give, it was her smile that intrigued him.
Akwaboah disclosed he has met his on-screen crush once but, surprisingly, did not behave out of character.
Coming from a family blessed with music, Akwaboah remarked that he would have no problem mentoring his son to follow his steps.
Despite following his father on tours at a tender age of 10, the father-of-one said he will only give a nod to his 8-year-old son after he attains a certain educational height.
James Bond producers say Idris Elba may be next 007
The producers of James Bond have said British actor Idris Elba is "part of the conversation" to be the next 007.
Barbara Broccoli, with her brother Michael G Wilson, have produced the last nine Bond films including Casino Royale, Quantum Of Solace, Skyfall and Spectre.
One of the most sought after and iconic roles in cinema is now back up grabs following Daniel Craig's final outing as 007 in the most recent Bond movie No Time To Die.
Elba, who stars in the crime drama Luther, is often tipped as one of the leading candidates to take over.
The 49-year-old has appeared in several Hollywood movies including Concrete Cowboy, Pacific Rim and Thor: Ragnarok.
Speaking to Deadline's Crew Call podcast, Broccoli addressed the speculation over who will next play Bond after she was told "a lot of fans want to see Idris Elba in a tuxedo".
Broccoli, 61, said: "Well, we know Idris, we're friends with him, and he's a magnificent actor.
"And, you know, it's been part of the conversation, but it's always difficult to have the conversation when you have someone in the seat.
"I think we have decided that until No Time To Die has had its run and Daniel has been able to – well, we've all been able to savour, reap the benefits of Daniel's wonderful tenure, we're not gonna think about, or talk about anybody else, actors to play the role or storylines, we just want to live in the moment."
If Elba lands the part he will become the seventh actor to play Bond as part of the franchise – following in the footsteps of Sean Connery, George Lazenby, Roger Moore, Timothy Dalton, Pierce Brosnan and Daniel Craig.
Other actors tipped to be the next Bond include Tom Hardy, Richard Madden, and Henry Cavill.
Craig, 53, is seen by some as one of the best Bonds ever.
Talking about his departure, Wilson, 80, told the podcast: "It's very hard to see him go, he's a tough act to follow, as they say.
"I think we will have a challenge in trying to continue on but we have set the bar high and I think it is a challenge we will have to face."
READ MORE:
Nollywood actress Stella Damascus hit with sad news
Veteran Nollywood actress, Stella Damascus has taken to social media to announce the death of her mother.
Though the cause of death is unclear, the news of her demise broke on Monday, January 24, 2022.
Stella took to her Instagram page to share a photo of the deceased coupled with a farewell message.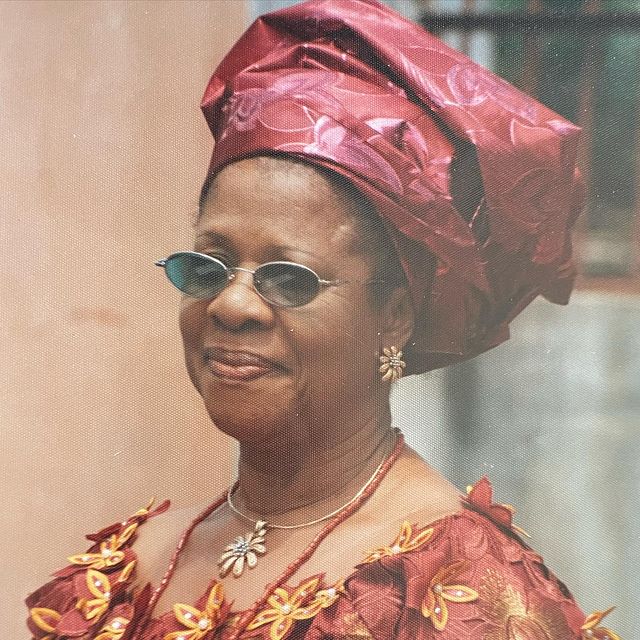 She wrote: This is not goodbye, it's TILL WE MEET AGAIN. Love you forever mummy.
ALSO READ: