Use gong-gong and drums if you don't want to re-register SIM card – NCA lawyer
Director of Legal at the National Communications Authority (NCA), Dr. OPoku Adusei, has asked members of the Concerned Mobile Network Subscribers to resort to fax, telegrams, gong-gong, and talking drums, if they do not want to re-register their SIM cards.
His comment follows the notice by members of the group to boycott the ongoing SIM card re-registration exercise.
The group has set aside February 8, to embark on a nationwide protest dubbed 'No Calls Day'.
According to the Concerned Mobile Network Subscribers, there is "no law in Ghana that requires Ghanaian mobile network subscribers to 're-register' their SIM cards."
The group among other things wants the NCA to immediately withdraw its directive for mobile network customers to re-register their SIM cards by March 31, 2022.
But in a Facebook post, Dr. Poku Adusei argued that the claim that there is no law that requires SIM cards to be re-registered is bogus.
He contended that the Legislative Instrument 2006, Legislative Instrument 2111 and Executive Instrument 63 warrants the re-registration of SIM cards.
He, therefore, hoped that members of the Concerned Mobile Network Subscribers will resort to primeval means of communication.
"We pray they resort to the use of fax, telegram, gong-gong, and talking drum henceforth."
"Claims that there is no law that requires SIM cards to be registered or re-registered is bogus to say the least. What law was their original SIMs registered under? Or they bought pre-registered SIMs? Even pre-registered SIMs are registered in someone's name. Re-re…means there existed a law for the initial re-. Too many luminaries and agendapreneurs in this land. Concerned whoever should go and read L.I 2006, L.I. 2111 and E.I. 63 and come again," he said in a Facebook post.
Ibrahim Mahama donates truckload of food items to victims
Chief Executive Officer(CEO) of Engineers and Planners, Mr Ibrahim Mahama, has donated a truckload of food items to victims of the Apeatse explosion in the Prestea Huni-Valley Municipality of the Western Region.
Thirteen persons perished while 59 others got injured in Thursday's explosion at Apeatse, a town between Bogoso and Bawdie in the Western Region.
The explosion occurred when a motorcycle allegedly collided with a vehicle carrying mining explosives to a mining site on Thursday, 20 January 2022.
Apart from the deaths, the explosion also destroyed several domestic and commercial properties.
To mitigate the effect of victims' plight, Ibrahim Mahama donated five thousand (5000) bags of rice, five thousand (5000) tins of Mackerel and one thousand (1000) gallons of cooking oil among others.
The donation is expected to help ease the suffering of the victims.
He expressed his condolences to the affected families and wished the injured a speedy recovery.
Motor rider blamed for disaster breaks silence
Philip Mensah, the young man whose motorcycle is alleged to have collided with the vehicle carrying explosives at Apeatse on Thursday, has given an account of how his vehicle may have been involved in the accident.
According to him, while riding from Nhyireso to Bogoso, he was hit from behind by another vehicle.
He said he was hit because the vehicle in front of him stopped suddenly, forcing him to also stop abruptly.
Speaking in an interview with JoyNews; Maxwell Agbagba, on Sunday, the rider stressed that he never came face-to-face with the said vehicle that exploded.
"A car hit me from behind. All I heard was a bang. So I fell off and slid on the coal tar for a while. In the process, I saw my motorbike sliding on the road as well. I did not see the car that hit me because it was from behind."
It was a taxi driver and a welder who rushed me to the Aseda Hospital. I was receiving treatment at the hospital when we heard the blast. Everybody ran, including me. Later, I saw many casualties being brought in. the Nurses even abandoned me to attend to the seriously injured victims of the accident," he recalled.
He emphasised that the Doctors and Nurses at Aseda hospital would be able to confirm that he was receiving treatment when the explosion occurred, "I was not on the scene of the accident that caused the explosion," he said.
Philip Mensah, who was at the scene of the accident, in the company of Police officers, as part of investigations, expressed sadness that an incident with such consequence has occurred, "I feel bad. We are all human, so I am sad. My concern is that people are saying different things. Some said I collided with the explosive-laden car, others said I got burnt etc."
On Thursday, January 20, about 500 houses were destroyed after an explosion at Apeatse between Bogoso and Bawdie in the Western Region.
Fourteen persons are reported to have died so far and several others injured.
Female police officer shot in Bawku clash is cousin to Titus-Glover
It has emerged that the young female police officer shot dead in renewed clashes in Bawku is a cousin to former Tema East Member of Parliament, Daniel Nii Kwartei Titus-Glover.
The deceased, 27-year-old Constable Regina Angenu with the Paga Police Station on Sunday, January 23, 2022, was shot in the groin following which she died at Presbyterian Mission Hospital while undergoing treatment.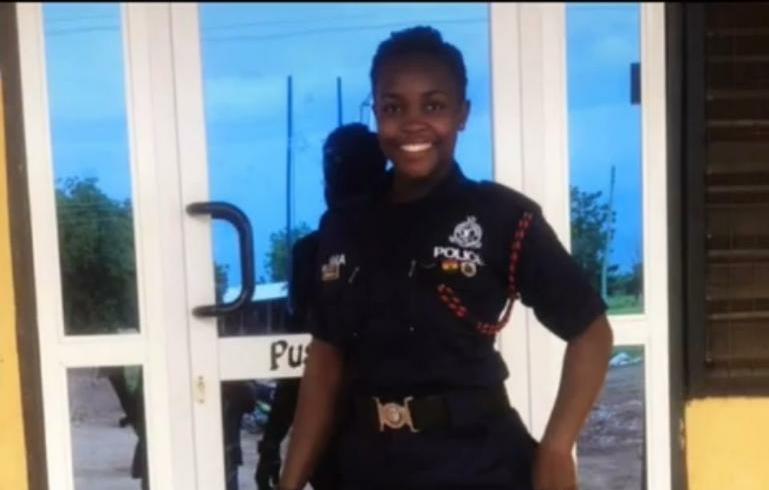 According to reports, she had gone to visit a colleague and the duo was attacked by unknown assailants.
A teary Titus-Glover wept uncontrollably while giving details about his relationship with the young police officer on Adom FM's morning show, Dwaso Nsem programme Monday.
He revealed that the late Regina lost her mother in 2020 hence her sudden demise is a big blow to the family.
The former Tema East MP added that the family I distraught to lose such a vibrant young woman dedicated to serving her country.
"She has left behind a young innocent girl; this is very difficult for me," Titus-Glover said tearfully.
He stressed that the Bawku conflict is claiming innocent lives hence security agencies must be proactive to prevent such unfortunate deaths.
Hon. Titus-Glover also appealed to the feuding factions to put the national interest first and smoke the peace pipe.