Woman absconds after she allegedly poured acid on her husband [Photo]
A 45-year-old woman suspected to have poured acid on her husband at Kwahu-Miaso in the Eastern has absconded.
On October 13, 2021, Doris Lamptey was reported to have attacked his husband, Isaac Lamptey, whom she had married for seven years without a child.
The victim, Isaac Lamptey, a mason and farmer, had returned home from Dodowa after working there for two months three weeks when he was attacked by his wife, who had also returned from work three days later.
According to Isaac, he rejected his wife's attempt to have sexual intercourse with him because he was tired and pleaded that she allowed him to take a deep rest.
"She wanted me to help open her zip for her, which I did. Then, I went to bathe and eat. Then, she asked the children who were with us to close the gate.
"I went to bed, and she came to the room and asked me to sleep in a supine position, so she puts her head on me, but I didn't because I was tired.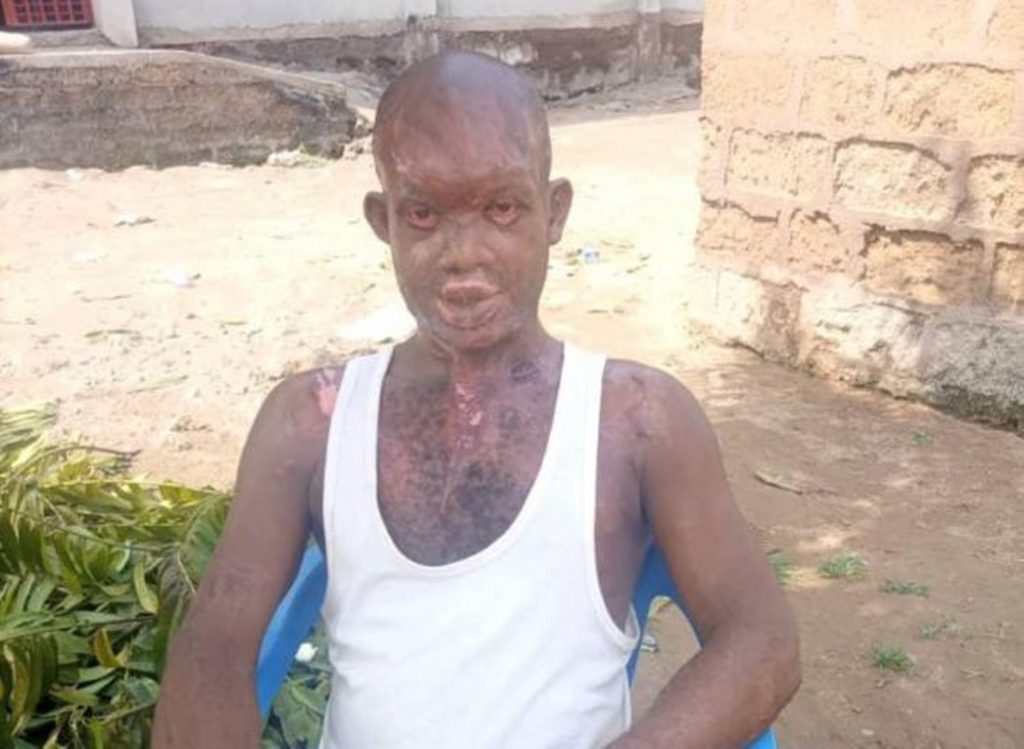 "I slept off, and after a while, I detected she had poured acid on my face and my body. I suddenly woke up and attempted to call for help, but she struck my head with a stick, so I fell.
"She thought I was dead, so she left me. I managed to get up and run away from the room screaming for help," the victim narrated.
According to him, they never had quarrels until she started faking pregnancies.
The case, he said, has been lodged with the Nkawkaw Police Command for investigations but claims the Police have failed to initiate processes to apprehend the suspect.   
Police react to reports of daylight robbery at Bantama
The Ashanti Regional Police Command has urged the general public to disregard a viral video alleging a daylight robbery at Bantama.
The said video had men on motorbikes who were purportedly robbing a young man of his personal effects, after which they sped off.
But, according to the police, investigations show that the video is a music video that was shot by one King Wahab.
The statement noted the musician and the director have been invited to report to the regional police command for interrogation.
Read the full statement below: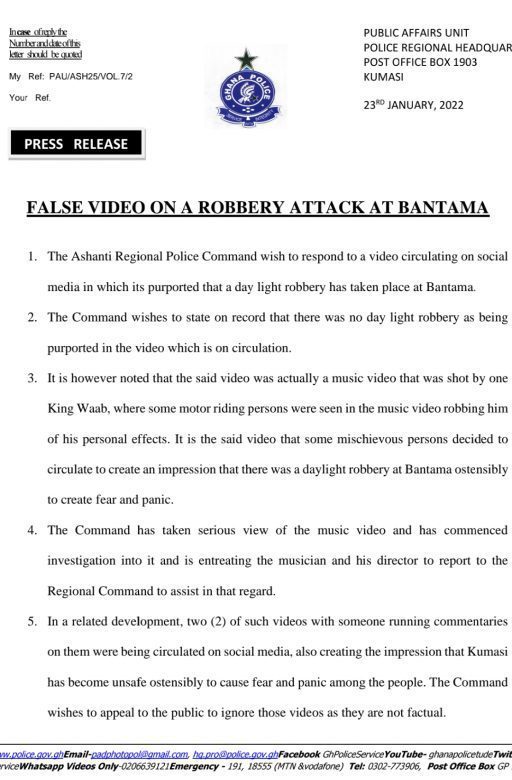 ALSO READ:
Motorbikes banned in Bawku after renewed clashes
The Upper East Regional Security Council (REGSEC) has banned the riding of motorbikes in the Bawku Municipality.
In a press statement signed by the Regional Minister, Stephen Yakubu, the Regional Co-ordinating Council noted that its directive stems from the volatile nature of security in the area.
"The Regional Security Council (REGSEC) has examined the security situation and its volatile nature in the Bawku Township and with immediate effect imposes a ban on riding of motorbikes in the Bawku Municipality and its environs," part of the January 23 statement read.
In view of this, both sexes are banned from using motorbikes within the area.
Per the statement, "this ban does not include motor tricycles."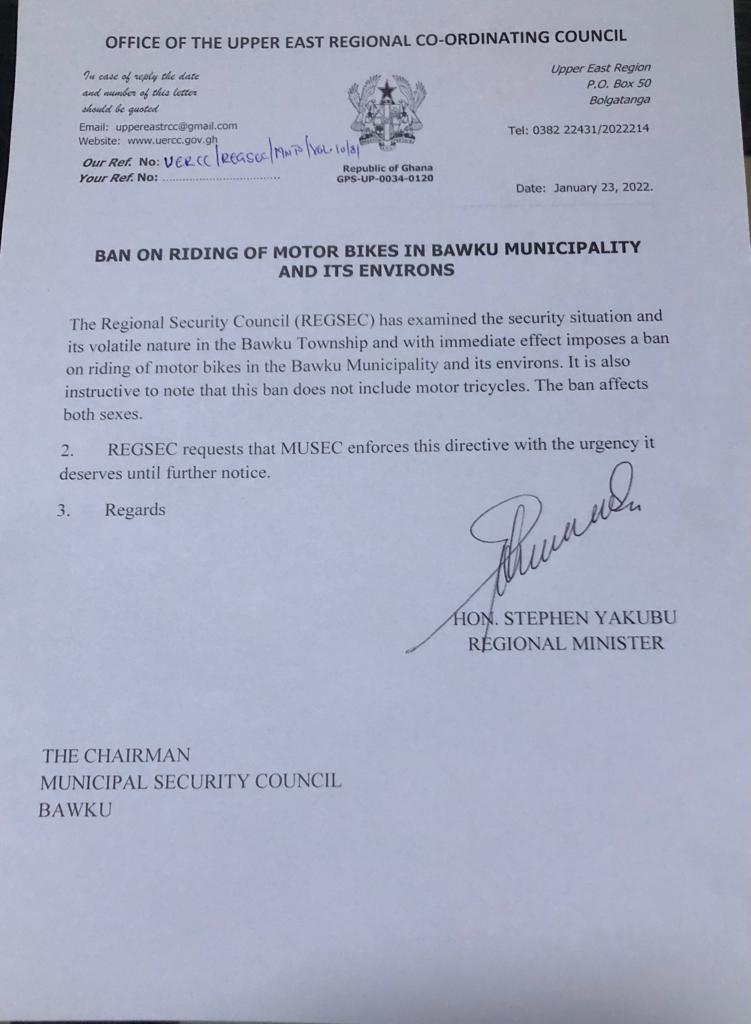 Meanwhile, MUSEC has been entreated to enforce the directive with the urgency it deserves.
Earlier, REGSEC banned the use of a motorbike by two or more men in the Bawku Municipality and its environs.
The decision prohibiting males from riding with their fellow males was taken after an emergency meeting held on Thursday, January 6, over the security situation in the region.
The ban included "a woman riding on a motorbike and picking a man on the same motorbike."
However, females were permitted to ride with a colleague female.
Ibrahim Mahama donates truckload of food items to victims
Chief Executive Officer(CEO) of Engineers and Planners, Mr Ibrahim Mahama, has donated a truckload of food items to victims of the Apeatse explosion in the Prestea Huni-Valley Municipality of the Western Region.
Thirteen persons perished while 59 others got injured in Thursday's explosion at Apeatse, a town between Bogoso and Bawdie in the Western Region.
The explosion occurred when a motorcycle allegedly collided with a vehicle carrying mining explosives to a mining site on Thursday, 20 January 2022.
Apart from the deaths, the explosion also destroyed several domestic and commercial properties.
To mitigate the effect of victims' plight, Ibrahim Mahama donated five thousand (5000) bags of rice, five thousand (5000) tins of Mackerel and one thousand (1000) gallons of cooking oil among others.
The donation is expected to help ease the suffering of the victims.
He expressed his condolences to the affected families and wished the injured a speedy recovery.